Read and listen to the modern version of the King James Bible on your phone: the New King James Version.
The King James is the most famous English Protestant Bible, but sometimes it is difficult to read (having been written originally in 1611 AD).
This version preserves the beauty and purity of the King James Version but achieves a modern and updated version of the Holy Scriptures.
Are you so busy? Can't you focus your mind on the Scriptures?
Try to listen this audio-bible!
Audio-Bibles work well for people who do not have much time to read the Bible. Listen the New King James: you will be surprised how quickly the time goes!
You can listen the Holy word while doing other tasks such as driving or cleaning or running. It would be incredibly profitable!
The Bible gives you strength and encouragement to face the oncoming day. The Bible revives the soul, makes us wise and brings happiness to the heart.
Take advantage of this opportunity and download this modern, useful and beautiful app.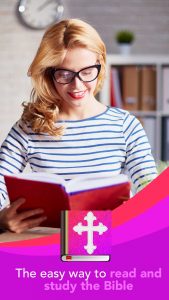 Features:
– New King James Version of the Bible
– Audio version of the Bible
– A simply to use app to find quickly and easily the book or verse that you want.
– Free and offline (It works without Internet connection)
– Bookmark your favorite verses
– Change the font settings for a comfortable read
– Create a list of your favorite verses
– Night mode to change the luminosity when you read
– Fast keyword research
– After a break, you see the current page of the book you were last reading.
Download on your phone the complete Bible with the Old and the New Testament:
The Old Testament is composed of: Genesis, Exodus, Leviticus, Numbers, Deuteronomy, Joshua, Judges, Ruth, 1 Samuel, 2 Samuel, 1 Kings, 2 Kings, 1 Chronicles, 2 Chronicles, Ezra, Nehemiah, Esther, Job, Psalms, Proverbs, Ecclesiastes, Song of Solomon, Isaiah, Jeremiah, Lamentations, Ezekiel, Daniel, Hosea, Joel, Amos, Obadiah, Jonah, Micah, Nahum, Habakkuk, Zephaniah, Haggai, Zechariah, Malachi.
The New Testament is composed of 27 books: Matthew, Mark, Luke, John, Acts, Romans, Corinthians 1 and 2, Galatians, Ephesians, Philippians, Colossians, 1 Thessalonians, 2 Thessalonians, 1 Timothy, 2 Timothy, Titus, Philemon, Hebrews, James, 1 Peter, 2 Peter, 1 John, 2 John, 3 John, Jude, Revelation.