With this new Bible app, you can access the New International Version that will be available on all your Android devices. Download for free the most popular of English modern translations of the Holy Bible.
Read anywhere on your phone or tablet or listen while you are driving, cooking or walking. Once you have downloaded the app in your device, you can use the app without Internet connection.
Your personal Bible will always be with you wherever you go!
The NIV is a completely new original translation of the sacred book. A committee of Bible scholars translated the Holy Bible, not from an existing English Version but from the original Hebrew, Aramaic and Greek texts and it became the most widely read English Bible.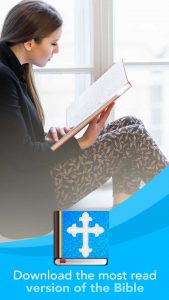 Benefits of the app:
– Excellent resource for personal study
– Offline use (without having an active connection to the Internet)
– Audio Bible (Listen free to the complete New International Version)
– Switch into night mode to a high quality reading
– Bookmark your favorite verses
– Create a list of favorites
– Share verses in social networks
– Adjust text size for a comfortably reading
– Keyword research
The New International Version app makes it easy to study!
Download the most useful tool to prepare sermons, to study, pray and learn more about Christ!
The New International Version is divided into two main parts. The Old and the New Testament.
The Old Testament is composed of 39 books called: Genesis, Exodus, Leviticus, Numbers, Deuteronomy, Joshua, Judges, Ruth, 1 Samuel, 2 Samuel, 1 Kings, 2 Kings, 1 Chronicles, 2 Chronicles, Ezra, Nehemiah, Esther, Job, Psalms, Proverbs, Ecclesiastes, Song of Solomon, Isaiah, Jeremiah, Lamentations, Ezekiel, Daniel, Hosea, Joel, Amos, Obadiah, Jonah, Micah, Nahum, Habakkuk, Zephaniah, Haggai, Zechariah, Malachi.
The New Testament is composed of 27 books called: Matthew, Mark, Luke, John, Acts, Romans, Corinthians 1 and 2, Galatians, Ephesians, Philippians, Colossians, 1 Thessalonians, 2 Thessalonians, 1 Timothy, 2 Timothy, Titus, Philemon, Hebrews, James, 1 Peter, 2 Peter, 1 John, 2 John, 3 John, Jude, Revelation.