Bible have never been more affordable than today! Does your church group need an accessible Bible?
New American Standard Bible (NASB) is now available for free downloading!
Use our app every day for the Bible reading or listening.
Start and end your day reading the Bible. Listen it over and over again through the day. It is the voice of God.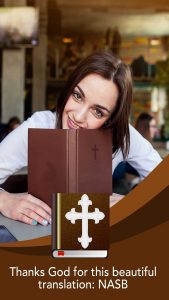 Benefits of the app:
– The most helpful bible app, user interface and design
– NASB is accessible without WIFI and very easy to use
– High quality audio Bible (Listen to the whole Bible on your phone)
– Compatible for Android Phones and Tablets
– Night mode to change the luminosity (day /night mode) when you read
– Ability to search, highlight and bookmark verses
– Make a list of your favorite verses
– Share them on social networks
– Set the font size for a comfortable read
– Keyword research
The New American Standard Bible, published in 1971, is an updated version based on the 1901 American Standard Version (ASV), using the original Greek and Hebrew texts as a guide.
The perfect tool for your personal Bible study!
Explore the Bible and find your favorite books and verses:
The Old Testament is composed of 39 books: Genesis, Exodus, Leviticus, Numbers, Deuteronomy, Joshua, Judges, Ruth, 1 Samuel, 2 Samuel, 1 Kings, 2 Kings, 1 Chronicles, 2 Chronicles, Ezra, Nehemiah, Esther, Job, Psalms, Proverbs, Ecclesiastes, Song of Solomon, Isaiah, Jeremiah, Lamentations, Ezekiel, Daniel, Hosea, Joel, Amos, Obadiah, Jonah, Micah, Nahum, Habakkuk, Zephaniah, Haggai, Zechariah, Malachi.
The New Testament is composed of 27 books: Matthew, Mark, Luke, John, Acts, Romans, Corinthians 1 and 2, Galatians, Ephesians, Philippians, Colossians, 1 Thessalonians, 2 Thessalonians, 1 Timothy, 2 Timothy, Titus, Philemon, Hebrews, James, 1 Peter, 2 Peter, 1 John, 2 John, 3 John, Jude and Revelation.