Download the Christian Standard Bible, a faithful and clear translation in modern English language.
This app will help you to understand the God's Word. You can also listen to the scriptures if you like. This audio bible works offline. Once downloaded in your device, you can read or listen to it without being connected to the Internet.
Get into a Bible reading with CSB translation, an excellent resource for readers who want to go further in the study of the Scriptures.
A large group of Biblical scholars from different denominations created this Version of the Bible. Their mission was to create an original English Translation, faithful to the original texts and clear to understand.
The result was this remarkably and well-written Bible: Christian Standard Bible. Download it now and enjoy the sacred Word of God on your phone!
The CBS mobile app offers you:
– Audio version of the Bible: you can listen to any verse while you are reading
– Free and offline (It works without Internet connection)
– A simply to use app to find quickly and easily the book or verse that you want.
– Bookmark your favorite verses
– Change the font settings for a comfortable reading
– Add a list of your favorite verses
– Fast keyword research
– Protect your eyes with night mode by dimming the light when the environment is dark or vice-versa
– After a break, you see the current page of the book you were last reading.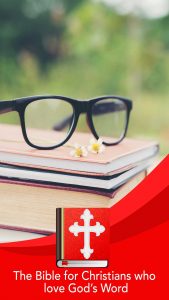 The Old Testament contains 39 books: Genesis, Exodus, Leviticus, Numbers, Deuteronomy, Joshua, Judges, Ruth, 1 Samuel, 2 Samuel, 1 Kings, 2 Kings, 1 Chronicles, 2 Chronicles, Ezra, Nehemiah, Esther, Job, Psalms, Proverbs, Ecclesiastes, Song of Solomon, Isaiah, Jeremiah, Lamentations, Ezekiel, Daniel, Hosea, Joel, Amos, Obadiah, Jonah, Micah, Nahum, Habakkuk, Zephaniah, Haggai, Zechariah, Malachi.
The New Testament contains 27 books: Matthew, Mark, Luke, John, Acts, Romans, Corinthians 1 and 2, Galatians, Ephesians, Philippians, Colossians, 1 Thessalonians, 2 Thessalonians, 1 Timothy, 2 Timothy, Titus, Philemon, Hebrews, James, 1 Peter, 2 Peter, 1 John, 2 John, 3 John, Jude and Revelation.