We are glad to offer you the best Bible to read and study: Amplified Bible (AMP), an English translation of the Bible based on the American Standard Version (ASV) of 1901. The first edition was published in 1965.
Features of the app:
– Amplified Version of the Bible
– Free and offline (It works without Internet connection)
– A simply to use app to find quickly and easily the book or verse that you want.
– Bookmark your favorite verses
– Change the font settings for a comfortable read
– Create a list of your favorite verses
– Fast keyword research
– After a break, you see the current page of the book you were last reading.
– Night mode function for a comfortable reading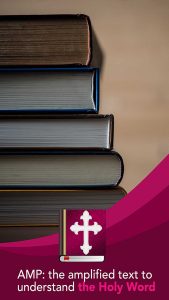 Amplified Bible (AMP) is a Bible with Amplified text that contains a system of punctuation (brackets, parenthesis, references) and additional words that makes Bible's understanding easier.
The Amplified Bible is a unique system of translation: The idea was to amplify the text with a set of keywords, synonyms, clarifications and definitions, to assist the Bible reader to understand the words as they were understood in the original biblical languages.
It is never late to know the Bible! Millions of people are using this app to read and enjoy the holy word of God. Download now this free app and access the Bible anywhere.
There is always a good reason to have the Bible near you. Feel motivated and full of faith reading the Amplified Bible every day!
The Amplified Bible consists of 39 books in the Old Testament (Genesis, Exodus, Leviticus, Numbers, Deuteronomy, Joshua, Judges, Ruth, 1 Samuel, 2 Samuel, 1 Kings, 2 Kings , 1 Chronicles, 2 Chronicles, Ezra, Nehemiah, Esther, Job, Psalms, Proverbs, Ecclesiastes, Song of Solomon, Isaiah, Jeremiah, Lamentations , Ezekiel, Daniel, Hosea, Joel, Amos, Obadiah, Jonah, Micah, Nahum, Habakkuk, Zephaniah, Haggai, Zechariah, Malachi ) and 27 books in the New Testament (Matthew, Mark, Luke, John, Acts, Romans, Corinthians 1 and 2, Galatians, Ephesians, Philippians, Colossians,1 Thessalonians, 2 Thessalonians, 1 Timothy, 2 Timothy, Titus, Philemon, Hebrews, James, 1 Peter, 2 Peter, 1 John, 2 John, 3 John, Jude, Revelation)