Get the English Standard Version (ESV), a modern and accurate English translation of the original Hebrew and Greek texts.
This word-by.-word translation was made by a committee of 100 biblical scholars from around the world, and published in 2001.
Share this beautifully written Bible with someone who has read it or with someone who has never before encountered the Holy message from God.
Download it on your phone and read or listen the message from God everywhere you go.
Features include:
– Free English Standard Version
– Audio version of the Bible
– Offline Bible (It works without Internet connection)
– A simply to use app to find quickly and easily the book or verse that you want.
– Bookmark your favorite verses
– Change the font settings for a comfortable read
– Create a list of your favorite verses
– Night mode to modify the color of the screen
– Fast keyword research
– Share verses on social networks
– After a break, you see the current page of the book you were last reading.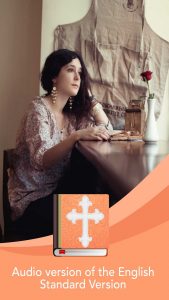 Download the complete Bible, with the Old and the New Testament:
List of the books of the Bible:
Old Testament: Genesis, Exodus, Leviticus, Numbers, Deuteronomy, Joshua, Judges, Ruth, 1 Samuel, 2 Samuel, 1 Kings, 2 Kings, 1 Chronicles, 2 Chronicles, Ezra, Nehemiah, Esther, Job, Psalms, Proverbs, Ecclesiastes, Song of Solomon, Isaiah, Jeremiah, Lamentations, Ezekiel, Daniel, Hosea, Joel, Amos, Obadiah, Jonah, Micah, Nahum, Habakkuk, Zephaniah, Haggai, Zechariah, Malachi.
New Testament: Matthew, Mark, Luke, John, Acts, Romans, Corinthians 1 and 2, Galatians, Ephesians, Philippians, Colossians, 1 Thessalonians, 2 Thessalonians, 1 Timothy, 2 Timothy, Titus, Philemon, Hebrews, James, 1 Peter, 2 Peter, 1 John, 2 John, 3 John, Jude, Revelation.